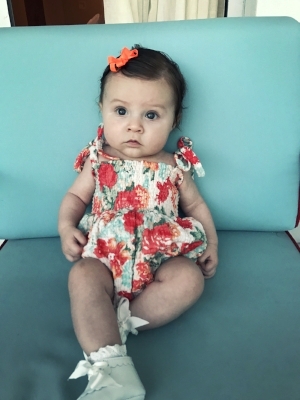 Every Season is Bubble Suit Season
Anyone who's a mom knows the diaper bag options are slim. Most are nylon fabric totes in boring colors. When I saw that genius Designer & mom Rebecca Minkoff was expanding on her already chic guitar bag straps I knew the search was over. Pick any one (or more) of these cool straps, and snap them onto whatever diaper bag of choice and that's it! You can move it to your cross body after hours, and everything in between. Tons of options, 1 small purchase!
It was a given that buying baby shoes would be a serious addiction, but I've really surprised myself with how obsessed I've become with mini sunnies for my little miss. Everywhere I turn it seems like I find another irresistible pair. These mirrored Illesteva pair are my current fav but some others that I'm loving you can shop below!
While this is definitely a shameless way for me to show off these gorgeous photos of my very teeny newborn Isla, I wanted to let everyone know that your baby does not need to be curled up in a pot dressed like a flower in order to get beautiful photos you'll treasure forever. I am no expert, but my number one piece of advice for the perfect photos (new baby, engagement, wedding, whatever!) is BE YOURSELF! No props, no crazy location shoots of you on a train track or hanging out of a tree... just you being you. I wanted these pictures to be about our new family in our home and capture exactly who we were at that moment in time. I think these images do exactly that.
1. The Outfit:
Wear something you feel beautiful, comfortable & can move in and do the same for the baby.
1. The Outfit:
Wear something you feel beautiful, comfortable & can move in and do the same for the baby.
2. The Glam:
Blowout! Done yourself or by a Glamsquad... it will always make you feel beautiful
4. The Shot List:
You have a small window of time with that new baby so make ever minute count!
5. The Photographer:
A patient & kid friendly photographer knows and understands babies. If they need a break, a change, feeding a patient photographer will be accommodating.
6. The Location:
Take photos in an environment that is comfortable to you, like your home, or a special place that you know well. In your home is always great because you have everything you need for baby and don't need to pack anything.
7. The Team:
it takes a village! So ask your mom, a relative or good friend to be on hand that day to grab a bottle, fix a stray hair or just to be a supportive bestie. It is key to keeping you calm & organized!
8. The Baby:
Dress the baby at the last possible moment. Nothing worse than planning every last detail & then baby barfs all over the look! Ahh!